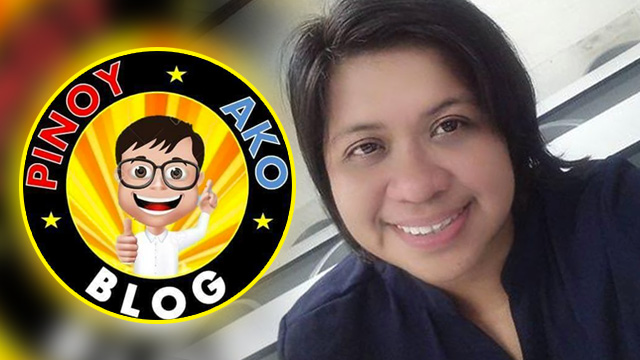 Jover Laurio, a blogger behind Pinoy Ako Blog, photo from Rappler
A self-declared Die-hard Duterte Supporter lambasted the blogger behind Pinoy Ako and said that the latter hid her identity unlike DDS members because her intent is to ruin the image of the President.
Narciso Febria Labra published an open letter on his Facebook account Josephina Vergina Lauro, the woman who recently admitted that she is behind Pinoy Ako Blog (PAB).
The letter contained questions about her declarations on societal issue, accompanied with Laurio's photos and screenshots of her blog posts.
"Now that you came out in the open, why did you hide yourself for so long? Ikaw na rin nagsabi na ipinaglalaban mo ang karapatan mong magpahayag? That right you said is truly guaranteed by our constitution to every citizen in this country, BUT you are a troll by the mere fact that you didn't reveal your real identity until your pressure came for you to go out in the open. Now, a troll is not real, is it? Does the right to express or speech intended for those who are not real? Answer me!!!!" the post read.
The DDS member urged Lauro, "for the sake of comparison" to look at DDS who voiced out thei opinions without hiding their identities.
He urged her to look at TP RJ Nieto And Asec. Mocha Uson who didn't hide.
"So what the purpose of your hiding? You hide because your purpose is to destroy the president, his programs and all his alliance by spreading fake news and destructive opinions."
The DDS member said that the blogger deserved all the criticisms thrown at her.
"As per your statement, you are so disturbed by the mess you are going through affecting your family, career and school you are working in, then what can I say? Its a payback!" he said.
"Do you know the huge disturbances your blog created to the President and his alliances? Do you know how disrespectful you are to the sovereign people of the Philippines- the 16 Million plus voters who enthroned Mr. Rodrigo Roa Duterte in the palace? Do you know how rude you are to the Truth? Yes, you exercise your right but it appear to us as an act of unbecoming for a good citizen in this country!" he added.
Lauro made her admission last Friday since the Senate has been waging war against the proliferation of fake news.
Targetted by the upper house especially by the senate majority are the number of bloggers.
The letter also tackled several statents of Lauro.
Ultimately, he said the blogger failed in her propaganda.
Here's what the rest of the letter read:
"I am interested to what you gonna fight one by one as you declared;
1. You are to fight with the people against fake news and lies of the propagandists.
a) with the people? Us? Or with the few people who backed you up?
b) fake news? Who's spreading it? You and your company of trolls against the administration.
c) lies of the propagandists? Who is lying? You all see the struggles of this administration to fix the problems in all sort BUT you preferred to wear your blindfold just to avoid seeing all this truth that instead of helping to inverted it by your deceitful news.
2. You are to be with the mothers whose children were killed through EJK, and with those kids left orphaned by those parents who were killed the same. Ohhh!!!
a) no judicial killing and therefore no such thing opposite to it, ergo EJK does not exist at all.
Use your basic logic.
b) go there be with them! But if you blame the PRRD as the main sponsor of EJK, I am challenging you to establish facts and evidences and there you go!
c) why don't you blame drug lords and their cohorts instead. Damned is those blaming the remedy and not even pinpoint the cause.
3. You are blaming this administration for the unsolved traffic problem in the Metro.
a) blame your LP former president for handed this problem down this problem to the new administration unsolved.
b) blame those who hindered the president to have the emergency power for this traffic problem. Can't you not see the real score? Hey you cannot see the four corners of a table in the a place at the same time. Open wide your speculative mind.
4. You are to be with the soldiers safeguarding our territory, while you said Duterte and Cayetano doesn't care for it. To be with the low waged teachers that this government did not even provide chalk allowance?
a) are you sure you are in your mind? Territory.
SC Sea o WP Sea ba kamo? Can you make war against this sleeping giant China? The president made other way to deal our claim without compromising UNCLOS favorable decision. It happened. Wake up madam.
b) the president prioritized the soldiers and PNP by talking to them most of this time were allotted to them in his first year of service. BLIND AGAIN. MADAM go to Marawi now!
c) chalk allowance hahaha! 2017 budget was approved by noynoy. Why you blamed Duterte? Duterte's administration budget starts in 2018. C'mon! Are you really a teacher or not. Why can't you figure things out?
5. You are to be with those tax payers becoming hunchbacks paying taxes while corruption's in the government become even more chronic?
a)The administration done this? Cite incidence of corruption done by PRRD administration. You did not shout for this during Noynoy administration. PDAP, DAP, MRT where are you at this mess? The present administration suffers for this. Be updated madam. Go out from your box. Don't be confined within the realm of your foolishness.
Your statements even reveal that you lies.
Ignorant maybe fooled but no more
ignorante today and so YOU FAILED!""
Source:
Narciso Febria Labra
Love this article? Sharing is caring!
An open letter to Jover Laurio: 'You disrespected the 16 million people who voted President Duterte'
Reviewed by
Kristian S.
on
14 October
Rating: