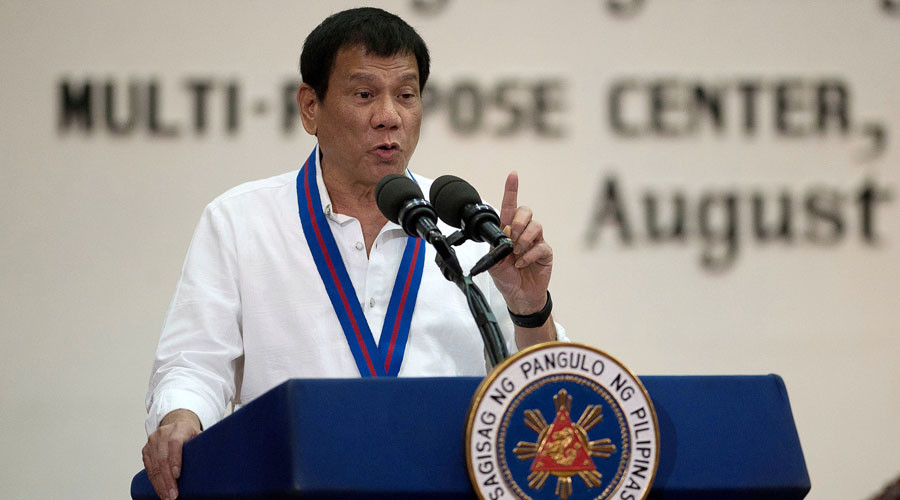 President Rody Duterte, photo from RT
Majority of Filipinos still has President Rodrigo Duterte's back despite the war against drugs, according to an international study by Pew Research Center.
The Pew Research Center interviewed 1,000 Filipinos from February to May 2017 for its Global Attitudes Survey. They noted that it was conducted before the police's killing of 17-year-old Kian Loyd delos Santos, imposing a question on how the campaign against drugs is being carried out by the police.
The study found out that the 86% of Filipinos hold a favorable opinion of Duterte, with 41% saying they are "very favorable" of the President. Only 12% of Filipinos view him unfavorably. Even among those who view Duterte unfavorably, more than half approve of his handling of illegal drugs (59%), corruption (55%), terrorism (55%) and the economy (54%). However, 55% disapprove of his handling of crime.
President Rody Duterte and PNP Chief Ronald dela Rosa, photo from Al Jazeera
"Duterte is well-liked domestically and his policies, including his approach to the war on drugs, are generally popular among Filipinos," the study says.
78% approve of his handling of illegal drugs issue. Large majorities also support his stance on crime, corruption and terrorism.
Pew Research Center added that 62% believes the government is making progress in its campaign against illegal drugs, while 21% say that things are the same as they were in the past and 15% say the government is losing ground.
According to Malacañang on Saturday, it welcomes these findings, and reiterated that the war on drugs will continue to be relentless.
"Our campaign against illegal drugs and criminals continues to get unwavering support from our people. The campaign against illegal drugs, as the President said, would be relentless until the drug apparatus is dismantled, the last drug pusher is out of the streets, and the last drug trafficker behind bars," it said in a statement.
Source:
GMA News
Love this article? Sharing is caring!
International research explains why there is an overwhelming support for Duterte's drug war
Reviewed by
Kristian S.
on
25 September
Rating: