Dr. Ethel Pineda and Sen. Risa Hontiveros, composite photos from Facebook and Inquirer
Dr Ethel Pineda, a doctor and alumnus of the University of the Philippines, through her Facebook page, cited the constitutional right to privacy which was violated by Senator Risa Hontiveros when she showed a text message from the phone of Justice Secretary Vitaliano.
Hontiveros on Monday called for Aguirre to resign after showing what she deemed was evidence of him plotting to file a case against her.
Hontiveros in a privilege speech showed a photo of Aguirre during the senate hearing of the killing of Kian Lloyd Delos Santos, which when enlarged, revealed that he was texting a certain "Cong. Jing" who said that, "Naturuan na ni Hontiveros ang testigo. Her questions are leading questions."
Aguirre allegedly responded by saying that, "yon nga sinasabi ko dito. Very obvious. Kaya nga expedite natin ang cases niyo vs her."
Pineda cited Sec III of the Bill of Rights under the 1987 Constitution.
"Sec. 3. (1) The privacy of communication and correspondence shall be inviolable except upon lawful order of the court, or when public safety or order requires otherwise as prescribed by law."
"Risa Hontiveros published a surreptitiously taken shot of the message on Secretary Aguirre's phone," Pineda said.
"She broke the law," she added.
Screengrab from Dr Pineda's Facebook post
Another netizen,
Mark Sanchez
, suggested that Risa indeed broke the law under Section 1 of R.A. 4200.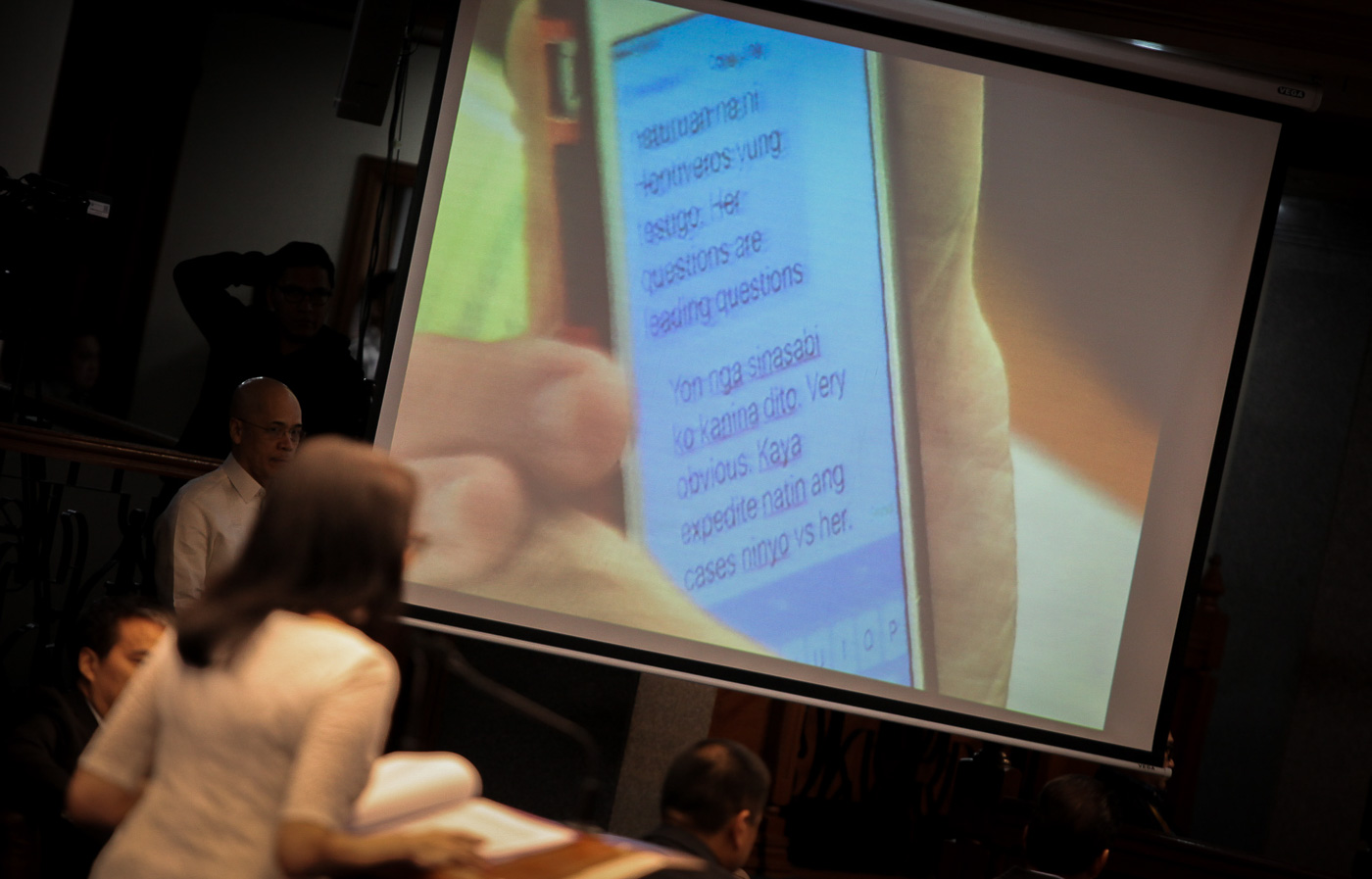 Sen. Risa Hontiveros displaying the captured text message of Sec. Aguirre, photo from Rappler
Section 1 of R.A. 4200 entitled, "An Act to Prohibit and Penalize Wiretapping and Other Related Violations of Private Communication and Other Purposes," provides:
"Section 1. It shall be unlawful for any person, not being authorized by all the parties to any private communication or spoken word, to tap any wire or cable, or by using any other device or arrangement, to secretly overhear, intercept, or spoken word by using a device commonly known as a dictaphone or dictagraph or detectaphone or walki-talkie or tape recorder, or however otherwise described."
The aforestated provision clearly and unequivocally makes it illegal for any person, not authorized by all the parties to any private communication, to snap a photo of such conversation.
Source:
Ethel Pineda
Love this article? Sharing is caring!
Filipina doctor says Hontiveros "BROKE THE LAW" after displaying DOJ Sec. Aguirre's text
Reviewed by
Kristian S.
on
12 September
Rating: