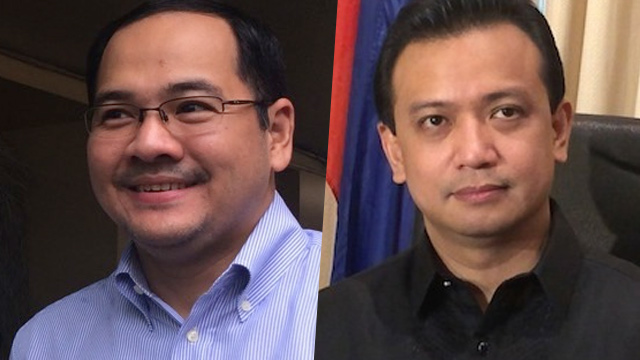 The issues just keep haunting Senator Antonio Trillanes. This time after unfazed lawyer Atty. Rico Quicho's investigation lead to a conclusion of corrupt practices by Trillanes and his Family.
Dugong Maharlika reported that the said allegations
are yet to be answered by the senator and that he has already aired "threats within the senate reporters who told him [Trillanes] about it."
Atty. Quicho asked if Trillanes still receives financial aid from relatives given the fact that he already holds public office and already earns his own income. "Humihingi pa ba kayo ng ayuda sa kapamilya ninyo," Trillanes is asked.
According to the post, it is stated in the law that donations by family members that amount to more than P500,000 are considered donation thereby subjected to donor's tax.
Quicho moved on to speculate about Trillanes' "consultants" whom receive up to P71,000 of monthly wage from the senator.
Included in the list of these consultants are Sonny Madarang, Jaime Torato, and Segundino Orfiano. According to their research the men are Philippine Navy officer, former Magdalo crony, and former Air Force personnel respectively.
They also dragged Trillanes' brother whose credibility they question for receiving huge amount of salary per month.
Their sources also revealed that Orfiano is part of the security staff hired by Trillanes who frequent the Senate session halls.
Read full post below:
"Sabi nga ng isang magaling na komedyante no'n, explain before you complain," Quicho said.
Quicho said to his knowledge as a lawyer, the giving of money by a person to a relative is considered a donation. And any donation above P500,000 is subject to donor's tax.
"Ako ho bilang abogado, ang pagkakaalam ko ho kasi, pagka nagbibigay ka ng pera sa relative mo, donation 'yon e. So may donor's tax 'yan. Any donation over and above P500,000 should be subject to donor's tax," he said.
"Ang tanong, Senator Trillanes, tama po ba si Atty. Quicho na may financial assistance kayo from a relative? Sino ho itong relative ninyo? Nagbayad ho ba ito ng tamang buwis? At bakit ho kayo binibigyan? Senador na ho kayo, mayroon na ho kayong sariling income, humihingi pa ba kayo ng ayuda sa kapamilya ninyo?" Quicho added.
Quicho also slammed Trillanes for resorting to harassment and intimidation instead of explaining the issues being leveled against him.
'Eto po 'yong mga kinakailangang sagutin at pangatawanan ninyo. Hindi 'yong [may[ issue tayo dito [tapos] tatakutin n'yo ho kami," he said.
"Ngayon, sasabihin ni Senator Trillanes paranoid [ako]. Paano ho ako magiging paranoid, mga kasamahan n'yo na rin ho 'yong mga senate reporters, mismong sila ho narinig nila ['yong banta n'yo]. Ano ho 'yong paranoia do'n e factual naman ho 'yon," he added.
Trillanes threatened that he would order his consultants to put Quicho under surveillance after the latter asked Trillanes to be investigated by the Senate ethics committee for including his alleged house help in his list of consultants. The house help was reportedly being paid P3,500 a month.
Moreover, Quicho asked Trillanes to explain the qualifications of three of his consultants.
"Sino ho ba si Sonny Madarang? Ang pagkakaalam ko po, itong si Sonny Madarang ay enlisted personnel pa rin po ito ng Philippine Navy. At tumatanggap na ho siya ng suweldo do'n, binabayaran n'yo pa ho siya as consultant ng P71,000," Quicho said.
"Itong P71,000 po na 'to, pag titingnan n'yo 'to, suweldo na po ito ng colonel. Suweldo na po itong colonel, at ito pong si Sonny Madarang, ito po ay sarhento," he added.
"Pangalawa, Senator Trillanes, sino ho ba si Jaime Torato? Ang pagkakaalam ko ho, ito ho ay ama ng isang kasamahan n'yo diyan sa Magdalo. Ano ho ang qualification niya at binabayaran natin, mga kababayan, ng P71,000 kada buwan?"
Torato is allegedly the father of Andy Torato, who was dismissed from service by the Armed Forces of the Philippines after pleading guilty to conduct unbecoming of an officer and gentleman in connection with his involvement in the 2003 Oakwood mutiny.
"Panghuli, sino ho ba itong si Segundino Orfiano? Ang pagkakaalam ko ho ay ito ay dating Air Force at kasama rin ho ito ni Senator Trillanes sa mga activities niya before. Ano ho ang qualification?" Quicho asked.
"Isa pa, si brother n'yo po, Senator Trillanes. Ano pong qualification niya? Ano ho ang accomplishment niya para bayaran ho namin siya ng P71,000 a month? Sagutin n'yo po 'yan. Huwag po tayo sa takutan," he added.
Senate sources say Orfiano is one of many Trillanes security staff who roam the Senate session hall during the hearings of the Senate Blue Ribbon Subcommittee.
Source/s: OVP, Dugong Maharlika
Love this article? Sharing is caring!
Former Corona lawyer exposes corruption claims against Sen. Trillanes and his family
Reviewed by
Kristian S.
on
23 February
Rating: